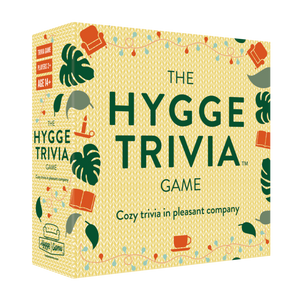 The Hygge Trivia Game
Age 14+
Players 2+
How do you say thank you in German? How many sides do stop signs have? Who was the goddess of love in Greek mythology? Is gold magnetic?
The Hygge Game – Trivia Edition has more than 400 entertaining trivia questions that give that extra boost to any game night or dinner with friends and family.
Hygge is a Scandinavian word that evokes a sense of deep comfort and togetherness, and there's nothing more hygge than slowing down and spending time with the people you love. These feel-good trivia questions are just the thing to conjure up that warm and snuggly hygge glow!
It makes a great gift and is the perfect game for your next party or get-together.
L/W/H: 5.7" / 5.7" / 1.8"
Weight: 9.5 oz