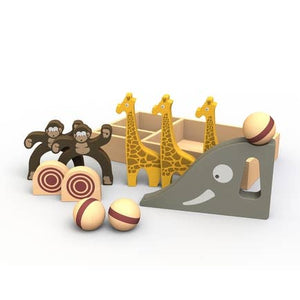 A "Wild" take on bowling, the safari. With an easy to hold elephant ramp to aim and shoot, two wooden balls, and a variety of giraffes. (pins), monkeys (wickets), and targets, this bowling set gets kids running and howling with laughter. Made from Eco-friendly rubber. wood and finished with child safe water based stains. Ages 2+.
Indoor bowling set is the perfect way to fend off cabin fever.
Builds gross motor skills, keeps kids active & teaches turn-taking and sportsmanship.
Made from Eco-friendly materials like rubber wood and beech wood; comes with storage tray for easy clean up.