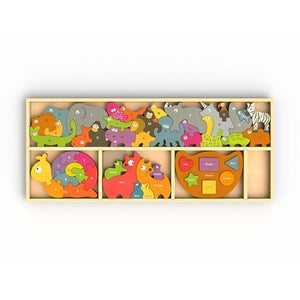 Best of begin again assortment: 4 of begin again's best selling educational puzzles in one box! Animal parade a-z, number snail, balance boat shapes and colours and cat family.
All in one box: Barlowe's learning box covers all of the basics - alphabet, numbers, shapes and colour learning puzzles and play sets. All packed in a hand crafted wood storage tray.
Eco-friendly toys: at begin again toys, all of the products are designed with the environment in mind. Wood is sustainably harvested from rubber trees to make all of the wooden pieces and play sets, while the sap of the tree is converted into the natural rubber bath toys. Any products that contain plastic have been created using recycled plastics as well as bio-plastics made from sugar, wheat and corn. Begin again is working towards a greener world one toy at a time.
Makes a perfect gift: whether you've got a little one in your life, or need an excellent birthday or baby shower gift, begin again is here to help.