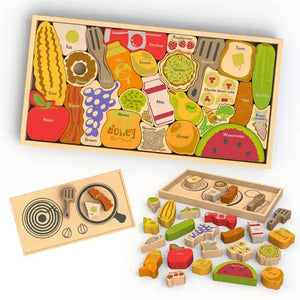 Our newest alphabet puzzle serves up learning and role-play fun. Each of the 26 puzzle pieces is a food, condiment or cooking tool, and each is labeled with its full name.
The 10" x 16" wood storage and display tray does double duty with an illustrated serving tray on one side and a stove top on the other.from apple to zucchini, kids can play with their food and learn letters too!
Made from eco-friendly rubber wood with non-toxic, child-safe stains, alphabites a to z is recommended for ages 3+.
Two toys in one - fun puzzle and food play set.
Box is printed with stove on one side and serving tray on another: so cook mom breakfast in bed and then serve it up.
Made from eco-friendly, non-toxic materials.
Nappa silver award winner.