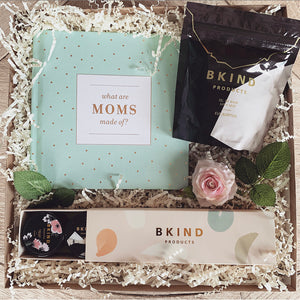 Treat a lovely someone in your life (we're talking mum, a bff, yourself - we're not here to judge) to a gift box featuring a What Are Moms Made Of gift book, BKind's bath mix and hand balms variety set.
Please note that gift boxes are only available for curbside or in store pick up. 
What Are Moms Made Of ($22.95 value)

It's not one quality or single event that makes her the mom that she is. From her comfort and care to her hugs and strength, Mom is made of so many wonderful things. This sweet and elegant book celebrates Mom, giving thanks for the beauty she shares just by being who she is. Features a classic design with a series of witty and heartfelt sentiments based on a lyrical rhyming scheme that echoes the popular children's nursery poem for a sweetly nostalgic feel. 
BKind Bath Mix ($26.95 value)
The bath mix that covers all your needs. Never has, and never will be tested on animals. 100% Natural ingredients!
This product, like any other BKIND product, is designed and made in Montreal. We only use the finest natural ingredients that provides the most benefits for your skin and our products are always cruelty-free.
Hand Balms Kit ($29.95 value)
Because it can be hard to make a choice, we now offer you this cute hand balms kit that contains each of our hand balms in a smaller format!
Need a deep nourishing therapy for your irritated and dry skin? Our hand balms will come to the rescue!
Made from a mix of deeply nourishing ingredients, our hand balms moisturize, soothe, repair and promote tissue healing. All those powerful natural ingredients come together as a winning formula to keep your hands soft, young and protected.