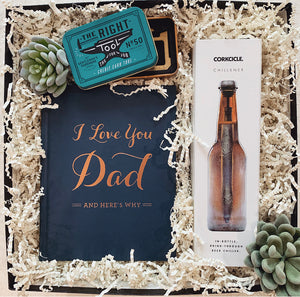 Treat your dad to a lovely father's day gift box featuring a customizable gift book, Chillsner beer chiller and a wildly useful credit card multitool! Make it extra fancy and add a case of his favourite beer or a snazzy new hammer.
Please note that gift boxes are only available for curbside or in store pick up. 
Chillsner ($29.95 value)
Cool to the last sip. 
Presenting the one and only in-bottle, drink-thru beer chiller: Chillsner by Corkcicle. Just freeze, insert into your standard 12 ounce beer bottle and never deal with warm beer again.
I Love You Dad And Here's Why ($21.95 value)
Give your Dad the gift of a memory. Give him the gift of the stories you share, written in your own words. And when you're finished, this book will be a keepsake—a commemoration of his love, his hard work, and everything he means to you.
The Right Tool For The Job Credit Card Multitool ($14.95 value)
10 trusty tools built into one handy credit card multitool. Helping dads always have the right tool for the job.