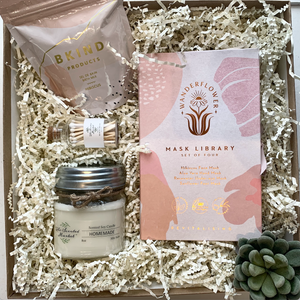 Treat a lovely someone in your life (we're talking a special lady, a bff, yourself - we're not here to judge) to a gift box featuring a sheet mask set, bath mix, cozy candle and equally adorable match variety set.
Please note that gift boxes are only available for curbside or in store pick up. 
Wanderflower Sheet Mask Set ($21.95 value)

Carefully crafted from woven bamboo fibre, these masks are suitable for all skin types. Inspired by the natural virtues of roses, aloe vera, sunflowers and hibiscus, the masks contain oils and extracts from real flowers, seeds and leaves. Just lay back, switch off and allow nature to heal you.
BKind Bath Mix ($26.95 value)
The bath mix that covers all your needs. Never has, and never will be tested on animals. 100% Natural ingredients!
This product, like any other BKIND product, is designed and made in Montreal. We only use the finest natural ingredients that provides the most benefits for your skin and our products are always cruelty-free.
Homemade Candle ($26.95 value)
HOMEMADE a fresh blend of home made apple crumble coming out of the oven with a small sprinkle of cinnamon to top it off!
Our 8 oz candles come in soft square glass mason jar with a farmhouse antique style round lid. Each candle is hand tied with a piece of twine. Each 8 oz candle has a burn time of approx. 50 hours.
Matches ($8.95 value)
Why not add a cute little accessory to your candle collection.
These wooden striker matches are great for lighting your candle and are a great addition to your home decor! Approx. 20-25 in each bottle
Striker pad on the bottom!